Home: Quality First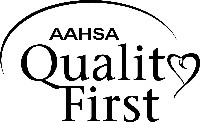 Quality First is a philosophy of quality and a framework for earning public trust in aging services. More important, is a renewal of our commitment as aging-services providers to help older adults and their loved ones live their lives to their fullest potential.

Through Quality First, we work in partnership with all stakeholders - government, consumers and the people we serve and their families - to create quality of care and quality of life in aging services. Go to AAHSA's Quality First site.


---
Watch the videos of the Quality First Award winners!
The core of AAHSA Quality First is the 10 Elements of Quality:
Commitment
Governance & Accountability
Leading-Edge Care and Services
Community Involvement
Continuous Quality Improvement
Human Resources Development
Consumer-Friendly Information
Consumer Participation
Research Findings and Education
Public Trust and Consumer Confidence
We would like to recognize the following CAHSA members who have signed the AAHSA Quality First Covenant, thereby committing their organization to the principles of Quality First:

Provider Members
Anciano Tower
Aspen Place
Beatrice Hover Assisted Living Residence
Brighton Gardens of Colorado Springs
Brighton Gardens of Denver
Brighton Gardens of Lakewood
Broadmoor Court
Brookdale Clare Bridge Cottage of Fort Collins
Brookdale Clare Bridge of Highlands Ranch
Brookdale Sterling House of Arvada
Brookdale Sterling House of Briargate
Brookdale Sterling House of Brighton
Brookdale Sterling House of Fort Collins
Brookdale Sterling House of Greeley
Brookdale Sterling House of Littleton
Brookdale Sterling House of Longmont
Brookdale Sterling House of Loveland
Brookdale Sterling House at the Orchards
Brookdale Villas at the Atrium
Brookdale Villas/Wynwood at Canterbury Gardens
Brookdale Wynwood of Pueblo
Brookdale Wynwood of Colorado Springs
Brookdale Wynwood at Ridge Point
Castle Country Assisted Living - Cantril House
Castle Country Assisted Living - Valley House
Castle Country Assisted Living - Victorian House
Castle Creek Terrace Assisted Living
Centennial Towers
Christian Living Communities - Clermont Park
Christian Living Communities - Johnson Center
Christian Living Communities - The Living Center
Christian Living Communities - The Village
Christian Living Communities - Holly Creek
Christian Living Communities Adult Day Program
Collinwood
Covenant Village of Colorado
Dayspring Villa
Eastern Star Masonic Center
Eaton Terrace Residences
Eaton Terrace II
Estes Park Good Samaritan
Frasier Meadows Retirement Community
Garden Park Villa
Golden West Senior Residence
Good Samaritan Society Bonell Community
Good Samaritan Society Fort Collins Village
Good Samaritan Society Fox Run
Good Samaritan Society Home Health & Wellness
Good Samaritan Society Water Valley
Grandview Apts.
Grand Villa
Guadalupe Senior Apartments
Heaven's View Apartments
Homestead Adult Day Care
Horizons Healthcare & Retirement



Hover Community
Kentucky Circle Village
Laurel Gardens
Laurel Manor Care Center
Libby Bortz Assisted Living Center
Life at the Bluffs - Goodwill Industries
Marycrest Assisted Living
Meadowlark Court
Montbello Manor
Morning Star Senior Day Program
Mountain Vista Health Center
Mullen Home - Little Sisters of the Poor
Myron Stratton Home
NBA Village at the Bluffs
Prairie Creeks Living Center
Residences at Franklin Park
Rocky Mountain Health Care Services
Seniors Resource Center-Central
Seniors Resource Center-Evergreen
Seniors Resource Center-Southwest
Shalom Park
Simla Good Samaritan
Sunrise Senior Living of Boulder
Sunrise Senior Living of Cherry Creek
Sunrise Senior Living of Colorado Springs
Sunrise Senior Living at Orchard
Sunrise Senior Living at Pinehurst
Sunrise Senior Living at University Park
Sunrise Senior Living of Westminster
Sunset Park
Sunset Towers Apartments
The Academy
The Granville Assisted Living Center
The Haven
The Johnson Center Adult Day Program
The Sanctuary
Total Longterm Care
Total Longterm Care - Chambers Center
Total Longterm Care - Cody Center
Total Longterm Care - Capital Center
Total Longterm Care - The Pinnacle
ViewPointe
Vista Village Assisted Living
Vista Village Retirement Center
Volunteers of America Valley Manor Care Center
Westgate Towers
Wind Crest

Business Members
Community Capital Corporation
The Highland Group
It's Never 2 Late
Lantz-Boggio Architects
Morrison Senior Dining
Schryver Medical Sales & Marketing
William Brummett Architects
Ziegler Capital Markets